---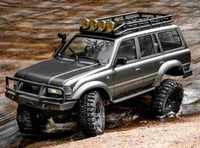 Sale
Looking for a mini scaler that's dependable, detailed and confident on any terrain?
Introducing the Toyota LC80 Land Cruiser.
-From the period-correct lights and functioning indicators to vents on the vehicle body, the Land Cruiser was designed to static-model standards. Even the interior is painstakingly recreated in 1:18 scale.
-A feature-packed trail-proven chassis drives the Land Cruiser. Aluminum rails provide a rigid platform while a multilink geometry with panhard bar chassis design allows for maximum axle articulation.
-Power is delivered from the super high-torque gearbox to ultra grippy beadlock tires via nylon driveshafts.
-Water-resistant 2S 7.4V electronics consists of an independent servo, 2-in-1 receiver/ESC, 050 motor and 7.4V 600mAh battery; Allowing for high power-to-weight ratio and all weather operations.
If you want the best looking, best performing 1:18 scaler on the market, look no further than the  Land Cruiser LC80!
Features:
1. Injection-molded hard body  
2. Functional hood 
3. Scale interior features  
4. Multifunctional light control system ( CH3 for on/off and functional indicators)
5. Rhino bumper kit & roof rack 
6. High traction M/T tire with 1.0 inch internal bead lock wheel  
7. Realistic pinion & ring gear axle  
8. High torque transmission with 104:1 FDL 
9. Water resistant electronics with 2.4GHz radio
10. High torque over-sized 55T brushed motor  
11. 7.4V 2S Lipo battery providing up to 30 minute run time.  
12. Chassis- mounted servo  
13. Aluminum frame rails 
14. Tuned coil shocks