---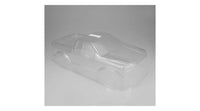 Sale
Key Features
Officially licensed by Ford to JConcepts
Fits a variety of 1.9" Trail/Scale trucks
Scale inspired body, cab and window design
1:1 headlight and grill treatment with pronounced front bumper
Front and rear fender flares for maximum 1.9" tire clearance
Extended cab with recessed windows
Clear heavy-duty polycarbonate with protective film
Window masks and detailed Ford F-150 decal sheet included
Fits Vaterra and Axial 1.9" trucks
| | |
| --- | --- |
| Dimensions (WxLxH): | Length 19 5/8 inches |
| Size/Scale: | 1/10 |
| Wheelbase: | 315MM |
| Width: | 240mm (approximate) |
Overview
The F-150 goes out of its way to play down its radically new body structure, wearing every possible right angle, even ditching the few rounded shapes it once wore. Make no mistake; every square inch is detailed to cheat the wind, to make the truck more desirable against all the outdoor elements. The 2016 F-150 Trail/Scale body by JConcepts is forging a new path in the market and is poised for success.
The look of the Ford F-150 is unmistakable contemporary Built Ford Tough, with bulging wheel arches, a drop-down beltline at the front doors, and some of the biggest snarling grille nostrils ever seen on an truck. The F-150 body is specifically built for the Vaterra Ascender and Axial chassis providing even more versatility to the wildly successful platforms.
Fitting bumper to bumper, the body has all the possible detail of its 1:1 counterpart starting behind that outsized grille. Split headlight design with corner reveal turn signal points the popular Ford in the right direction while edgy hood detail bulks around the wide-body fenders to provide plenty of clearance for an assortment of large 1.9" tires. The extra cab look is defined by the recessed windows and the roof has built-in extruded touches emulating the reinforced roof of the stock vehicle.
The bed and fender area maintain a couple of features that pique interest including sculpted out areas which look the part of the bed floor which are so commonplace in today's pickup trucks. JConcepts has added the tailgate step feature on the rear which doubles as cargo cradle in the scale world. The body includes a decal sheet for the headlight and taillight trimmings with Ford and F-150 logos throughout. Miscellaneous JConcepts logos, door handles, exhaust tips and running lights finish off the new kid on the block.
Requires
Paint for polycarbonate body.
This is sold as a clear and unpainted body. Images of the painted body is only to display details. No vehicle chassis is included with this product.