---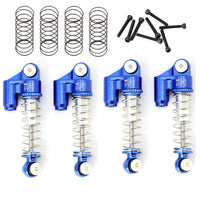 PHBPHSCX2401BLUE
Axial SCX24 Aluminum Threaded Mini/Micro Shocks Front Rear
These shocks are friction damped, requiring only a partial filling of silicone oil. The include a machined reservoir shock cap for realistic scale looks.

Includes:
- Four (4) shocks
- Four (4) soft springs (black)
- Four (4) firm springs (silver)


Requires:
- A 0.05in, 1.3mm, or 1.4mm hex wrench for screws
- Silicone shock/diff oil. Shocks should not be fully filled; add only enough oil for a heavy coating. 2000-3000cSt is a good starting weight.
Features:
- Machined aluminum construction
- Threaded shock bodies for quick pre-load adjustments
- Scale-looking reservoir (non-functioning; for scale only)
- Two spring rates included
Specifications:
- Extended length eye-to-eye: ~32.5mm
- Compressed length eye-to-eye: ~24mm
- Stroke: 8.5mm