---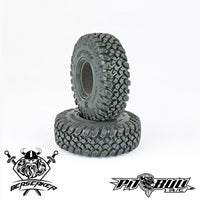 NEW TIRE DESIGN!!!  PB9017AK - BRAVEN BERSERKER 4.35X1.45-1.9 SCALE RC / ALIEN KOMPOUND / w/Foam - 2 tires & 2Foams per pack.  5.6 ounces per pack.
MSRP - $39.99
Pit Bull RC is proud to announce our Alien Kompound 1.9 Braven Berserker tires. Recon G6 Certified!
The Berserker tread pattern is a throwback to the classic four lug design of the 70's and 80's with new features that bring the performance into the modern era. 
Based off the 1:1 Berserker tire the R/C version provides the same great features:
- Staggered tread pattern
- lightning bolt sipes on the center lugs for unbeatable traction in any terrain and in the 
deepest of muddy ruts
- Outer shoulder lugs are staggered for extra bite when the going gets rough. 
- scale rim guards into the bead seat of the tires just like the 1:1 version. 
Take your 1.9 rig's performance to the next level with Pit Bull R/C 's Scale Braven Berserker tires!
Foam color in pics may differ from actual 
included
 with product.
---