---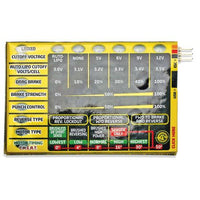 The Field Link programming card allows you to change popular control settings quickly without a computer – great for the field box or workbench! Field Link cards offer the simplicity of one-button operation. Click to move through the settings and hold/click to change the values. It's that easy! 

You can also use the Field Link card as a USB adapter to connect Castle Link compatible controllers to their Windows PCs for complete access to all available programming options.

The Car Field Link is compatible with all Sidewinder, Mamba, and Monster controllers.