---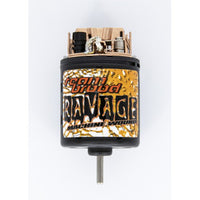 Sale

The assembly process is a rigorous one involving hand shimming, precise brush hood alignment, low impact break-in, and dyno testing. The result? Positively THE MOST POWER you can strap into your truck.

Don't compromise performance, buying into other "motor tuners" gimmicks. Go with Team Brood Horsepower, real knowledge - real wins.
Team Brood Racing racing motors are built to order, with construction times for this motor taking 1-2 days to complete. Your motor will be built just for you with our high quality parts and advanced construction techniques.

Features

Dual Magnet Can with HG6 magnets - Maximizes torque and braking

   

        

1.4mm thick Can - Strengthens the magnetic field for maximum torque and braking with a durable finish

Adjustable Timing - Fine tune the motors powerband to optimal settings

Rebuildable - Can be rebuilt to provide maximum power and longevity

Dual Precision Ball Bearings - Reduces friction provides increased efficiency and power

Aluminum Heatsinks - Additional cooling provides for a more efficient motor

Standup Brushes -  Long lasting performance brushes

Springs - Optimal tension springs

Machine Wound Armature:
Build Features
Cleaned and Lubed Bearings - Allows for the smoothest operation

Precision-Spaced Armature - Centers the Armature in the magnetic field with minimal play

Precision-Measured Springs - Assures both springs are at the optimal tension

Aligned Brush Hoods - Allows the brushes to make full contact allowing even wear and max power

Tested - Each component is tested on calibrated

Fully Broken-In - Ready to install and run

30 Day Limited Warranty
Options
Wind:The number of turns of an armature determines the amount of power, RPM and torque a motor will create.
The lower number of turns typically will make the motor produce more RPM and overall power, while torque per amp will be reduced, but less than the gain of RPM.
Higher turn motors will produce the more torque per amp, but will sacrifice RPM and power.
Lower turn motors will have reduced runtime and can require more maintenance. Proper maintenance and cleaning are much more critical on a lower turn motor.
KV Ratings - No Load with 5 Volts @ Zero Degrees 
11t - 2810 KV
13t - 2340 KV
16t - 1880 KV
20t - 1510 KV