---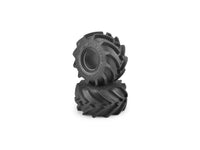 In the land of the Mega Truck, there is nothing better than a fresh set of deep tread tractor tires. One of the aliases of the mud tires, "Rice and Cane," refer to the purpose or landscape they were originally designed for within the farming and agriculture industry. The 2.2" Fling Kings by JConcepts are the first RC Mega Truck tire, specifically designed to throw mud, dirt, gravel and grass just like the real thing.
The giant-sized tires are tall enough to dance through the deepest RC loam, however, it is the tall lugs that separate them from the rest. The 1:1 tires were hand-cut to produce the most wicked looking tires on the block. The JConcepts tires are uniquely built to replicate a hand-cut set, however, deep tread remains to do the "mega" land damage the drivers and enthusiasts crave. 
One of the most impressive details about the Fling Kings, they are designed for a JConcepts 2.2" wheel (#3380), making them aggressive in appearance. The bead of the tire features the traditional 2 step surface which provides a massive amount of area for glue to rest giving the utmost security for full-throttle mud runs. No details were spared on these mud runners, the V-type tread is replicated to a T and the top of the tread carries a slight recess adding a little touch of depth to the appearance. Off to the side, the tire lettering hits hard with retro style JConcepts lettering, Fling King logo and crown with #3083 part number for easy identification.
The soft "blue" compound which is recommended for dirt, grass and asphalt feels noticeably mushy and sticky and has expanding characteristics and tend to "pizza cutter" during flat out high-speed runs. The "gold" compound feels harder to the touch, excels on polished or hard surfaces, and expands less during high speeds. Fling King tires are complete and include open cell "React" inserts to support the grippy tires. The Fling Kings measure in at 5.50 x 2.5 x 2.2" and are available in two the different compounds mentioned above and fit directly to JConcepts wheels. 
Notes from the team – 
The JConcepts tires mount directly to the Midwest 2.2" wheel (#3380) which feature 12mm interchangeable offset adaptors for different width adjustments. The Fling Kings will dig hard and test the performance, durability, and power of any RC vehicle. Its encouraged to choose running conditions carefully, beef up your rig to handle the grip and get ready for a wild dirt roosting RC experience. The Fling Kings are specifically designed to work with vehicles such as the Traxxas Stampede, Rustler, SMT10 and 2.2" based monster trucks.
Features:
Scale sizing and design inspiration
Tire measures - 5.50 x 2.5 x 2.2"
V-style tread with replicated "hand-cutting"
Single contour carcass with double step mounting bead
Impactful tire lettering with retro JConcepts logo
Available in "soft" blue and "medium" gold compounds
Includes "React" open cell inserts
Mega style and performance