---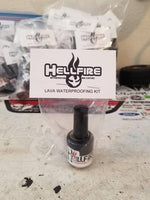 When you just need to get in the water. Try applying this product to you electronics boards first. Cost is for one bottle.


Here's a simple set of instructions for our DIY lava waterproofing kit.


Disconnect your electronics.

Decase the item your wanting to waterproof to expose the electrical board.

Make sure item is clean of dirt and contaminants.

Apply an even coat over all parts of the board. Both sides.

Wait 15-25min or until coat is tacky and not runny.

Depending on how thick your first coat is you may need/want to apply 1 or 2 more for a total of 3 coats.

This is not always necessary as 1 or 2 usually do the trick.

After the last coat, let item dry until the chemical is no longer tacky and no finger prints are left on item after touching. "Usually a few hours. Or overnight if done later at night"

Put case back together

Re install electronics and enjoy.

Remember to always use dielectric grease on your connections to the RX and other electrical connections.