---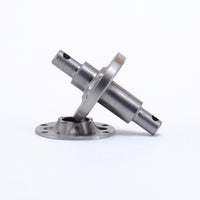 Sale

This is a drop-in spool style outdrive that replaces the stock Axial
outdrive with higher quality materials and a stronger design.

LIMITED EDITION LIGHTENED WITH 6 SCREW HOLES!

Compatible with Axial AX10 and SCX10 transmission housing

Not compatible with Wraith transmission housing

Compatible with stock and aftermarket 5mm bore driveshafts

High quality domestic 4340 Chromoly MADE IN THE USA at Holmes Hobbies!

Spool design reduces screw breakage caused by overdrive/underdrive stress

30 grams

One year warranty.