---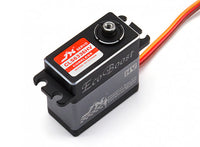 JX servo's are reliable, high precision and high performance servo's that are aimed at the discerning modeller. This large range of servo's includes those with brushless and coreless motors, high voltage, metal gear trains, metal cases and servo's that are programmable, there is a servo to suit everyones needs.
These servo's are excellent value for money, they have not been designed down to a price, they use quality, reliable components in all their servo's and the build quality is second to none. Choose JX servo's for your next project and you will not be disappointed.
The JX CLS6336HV is a high torque, fast, high voltage standard sized servo with a coreless motor, metal gears and a ballraced output shaft. This is the perfect servo where the application demands very high torque with a fast speed.
Specs:
Model No: CLS6336HV
Voltage: 6.0~7.4V
Stall Torque (6.0V): 27.8kg
Stall Torque (7.4V): 35.6kg
Speed (6.0V): 0.14sec/60°
Speed (8.4V): 0.11sec/60°
Dead Band: 1µs 1520µ/330hz
Motor: Coreless
Gears: Metal
Bearing: 2BB
Spline Count: 25T
Dimensions: 40.5 x 20.5 x 40mm
Weight: 63g
Connector: JR type
Servo Wire Length: 265mm