---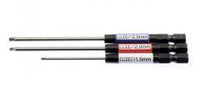 Sale
For
all those that suffer from carpal tunnel, strained wrists, or pure
laziness, MIP has the remedy to your RC wrenching ailments! We would
like to introduce to you our never before seen MIP Speed Tip™ wrench
package including the most popular sizes for Metric sized hex-head
screws. MIP Speed Tip™ Wrenches are designed to be used in standard 1/4 inch hex chuck with adjustable clutch, so they will work
with just about any capable power drill or screwdriver and speed up
your time of wrenching and let you have more time at the wheel.
Legendary.
As the exclusive manufacturer, MIP has worked very closely with John
Thorp to produce the best wrenches in the hobby industry. Much longer
than a typical drill bit, for the most reliable tool to tackle hex-head screws, top technicians,discerning hobbyists, and champion racers choose MIP. Get the wrench set that will last a lifetime.
PRODUCT DESCRIPTION:
Three – MIP Speed Tip™ Hex Driver Wrench precision ground in-house from the highest quality US hardened tool steel.
TARGET CUSTOMERS:
Everybody needing high precision quality tools.
COMPETITIVE ADVANTAGES:
The
MIP Speed Tip™ Hex Driver Wrenches are made to last a lifetime, with
the press- in inserts for no-slip tightening, and quick change powertool
inserts fit 1/4" adjustable chuck power drills.
FEATURES:
Much Longer Than Mini-Bits - Quick Removal and Reliable Tightening
Highest Quality Wrench and Hex Driver!
Precision Ground In-House
Hardened US Tool Steel
Comfortable Handles
Outlasts Wrenches from the Competition
Laser-Marked with the MIP Logo and Hex Size.
100% Quality Made in the USA!
INCLUDES:
1.5mm MIP Speed Tip™, Assembled (1), 2.0mm MIP Speed Tip™, Assembled (1), 2.5mm MIP Speed Tip™, Assembled (1)
REQUIRES:
N/A
COMPATIBILITY:
N/A
SAFETY REQUIREMENTS:
Remember
to work safe! Always wear appropriate eye and hand protection when
using hand tools. Never use your MIP tool to pry, hammer, or over
torque or you will void the warranty. The same hardened quality that
keeps the tips sharp and precise can be brittle and subject to breaking
if misused as a prying tool. Use properly to remove, or tighten
hardware only.
LIMITED LIFETIME WARRANTY:
MIP
stands behind every wrench and hex driver! MIP quality assurance
promises that all wrenches and hex drivers are free from defects in
workmanship or manufacturing for the life of the tool. Defective parts
that have not been rendered defective through improper use or natural
wear will be warrantied as follows: MIP Speed Tips™ re-tipped or
replaced and MIP Hex Drivers re-tipped in your existing handle or
replaced at MIP's discretion for only $10.00 each including USPS
shipping and handling within Continental USA, just $15.00 to Hawaii,
Alaska and International customers. Send them directly into the MIP
factory. MIP encourages you to insure the package for the replacement
value of the tools. We are not responsible for products that do not
make it to us. Any additional indemnification will be strictly
denied. Due to the nature of normal use of tools, wrenches broken by the
customer, altered, used for prying, impact, or otherwise misused will
not be replaced or re-tipped. In such cases, the customer will be
charged for the cost of returning the received item.
All warranty requests are subject to inspection and are at the discretion of MIP.
*Not Responsible for typographical errors