---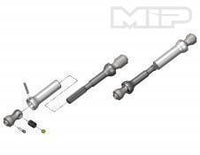 Sale
PRODUCT DESCRIPTION:
MIP center driveshafts for the Axial line of vehicles are nothing short of legendary in the rock crawling community. But, for a while now the Axial SCX10 driveshafts were in need of a face lift to incorporate the running changes that have occurred over at Axial including their outputs now featuring a hole for driveshaft attachment. MIP's new SCX10 Axles will no longer feature the double set screw design to clamp onto the through hole but now incorporate a pin set screw for attachment. Along with that improvement we have also changed the drive hubs so that there is no longer any interference when it comes to making contact with the stock spur gear cover! Last, but not least, the best feature of this kit is that it covers all SCX10 models with a 12.3 wheel base; and yes this includes the ever popular Jeep Rubicon kit! Get yours today and put your trust in MIP driveshafts for your rock crawling needs!
TARGET CUSTOMERS:
All SCX10 Owners
COMPETITIVE ADVANTAGES:
RC Rock Crawling Approved design
Reliable Pin set Screw attachment
Xtra Durable Construct
Dual CVD articulation
40 degrees of angle
All Metal Design
FEATURES:
Pin Set Screws
Spline Drive Technology
CVD Construct
Heat Treated Steal Components
Grease/Loctite included
Compatibility with all SCX10™ Models
100% Made in the USA
INCLUDES:
HW-SHSS 8-32 x 1/8 Flat Point (4), MIP Confetti Sticker (2), MIP Thread Gel Safety Sheet (1), HW-PIN/ Ø3/32 x 5/8in Replacement Cross Pins (4), 1/4" x 3/8" Coupling (4), MIP Lube & Thread Gel Cup (1), MIP C-Drive Male Bone AX10 Scorpion (2), MIP CVD™ Spline Bone Female Axial AX10 (2), MIP 5mm Drive Hub Long Axial Wraith (1), MIP 5mm Drive Hub Std Axial Wraith (3), MIP Inst. Sheet Axial C-Drives (1), HW-SHSS, M3 x .099 Pin Screw (4)
REQUIRES:
1.5mm Allen Key – (Suggest - #9007 MIP Hex Driver Wrench 1.5mm)
2.0mm Allen Key – (Suggest - #9008 MIP Hex Driver Wrench 2.0mm)
COMPATIBILITY:
SCX10™ Trail Honcho RTR - AX90022, SCX10™ Jeep Wrangler Unlimited Rubicon Kit and RTR – AX90027 & AX90028. SCX10 Jeep Wranger Kit - AX90034 & AX90035, SCX10™ Deadbolt™ 1/10th Scale Electric 4WD - AX90033. Does not fit the SCX10™ Dingo Kit, SCX10™ Deadbolt™ 1/10th Scale Electric 4WD - AX90044!!
SUPPORT PRODUCTS:
(See links below for support kit items.)
Safety Data at http://miponline.com/store/msds.html
Hi Res Images at http://www.miponline.com/store/media/myparts/ or click any image herein.
*Not Responsible for typographical errors