---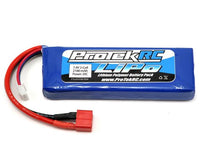 Sale
This is the ProTek R/C 2S 2100mAh, 20C Lithium Polymer battery pack. This pack has T-Style Ultra connectors pre-installed, and comes with a 3-pin Align/E-Flite style balance connector.
This battery is a great receiver battery for helicopters and airplanes!

Unlike most other Lithium Polymer batteries, these batteries can be charged at up to 2 times the rated current, or 2C! If your charger is capable, you can charge these batteries at 4.2A!
Specifications:

Type: Lithium Polymer
Capacity: 2100 mAh
Voltage: 7.4V nominal
Connector Type: T-Style Ultra (14 GA Wire)
Balancer Type: Align/E-Flite compatible (XH)
Number of Cells: 2

Weight: 115g
Configuration: 2S1P
Dimensions (WxLxH): 36 x 107 x 15mm
Maximum Charge Rate: 2C (4.2A)!
Maximum Continuous Discharge: 20C (42A)
Maximum Burst Discharge: 40C (84A) for 3 seconds