---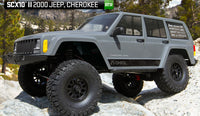 Sale
The SCX10™ has been the vehicle of choice for scale trail fun! For the past 8 years the SCX10™ has been the staple vehicle platform for scale trail enthusiasts around the world. Axial was one of the first companies to embrace R/C rock crawling and the first to mass produce a scale trail truck. Axial has been watching trends, tirelessly testing, and experimenting to create the next evolution of the SCX10™. The SCX10™ II is the culmination of many years of development, furthering aesthetic realism while maximizing trail performance. The next generation of SCX10™ is here!
Battery: 2S or 3S LiPo pack, or NiMH pack (batteries not included)
AX90047
SCX10 II™ 2000 Jeep® Cherokee 1/10th Scale Electric 4WD – RTR
816874016289
Axial AE-5 ESC Setup
Binding the Tactic TTX300 transmitter to the TR325 receiver
How to bind the Tactic TTX200 transmitter to the Tactic TR325 receiver. This is a great, lightweight backpacking option!
NOTE: Prototype shown. Some imagery may differ from the actual product.