---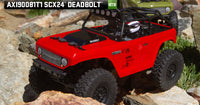 Equally at home on creative indoor trails and challenging outdoor terrain, this Deadbolt™ is eager for adventure almost anywhere — the 1/24 scale SCX24™ chassis proves that BIG fun comes in small packages! The chassis shares many familiar features with its highly successful 1/10 scale SCX10™ inspiration. It has rugged steel C-channel frame rails with bracing and officially licensed Nitto® Trail Grappler tires on KMC® XD Machete wheels, providing the toughness and tread to tackle off-road challenges (and the freedom to face them down on-road, too). The SCX10 hinged body system has been carried over into this rig as well…so you can change the battery or check out other on-board components with barely a break in the action.
You expect solid performance from Axial® and the SCX24™ Deadbolt™ delivers, with engineering and equipment that pulls the greatest potential from its compact size. The included Dynamite™ 88T brushed electric motor supplies the torque you need to get up and over most obstacles. And despite the dimensions, it's a pretty capable rock crawler, too! We've also included extra suspension links for adjusting your wheelbase length.
EVERYTHING IS INCLUDED!
The SCX24™ includes everything you need to get going. The product is fully assembled, and we've included batteries for the transmitter, and a LiPo battery pack and USB charger.

INCLUDED:

• Axial AX-4 2.4GHz, 3 Channel Radio System
• Axial AS-1 Servo
• Axial AE-6 ESC/Receiver Combo
• USB Charger (DYNC1062)
• Dynamite 88T 030 Brushed Electric Motor
• Dynamite 350mAh 2S LiPo 7.4V Battery Pack (DYNB0012)
• 4AA Batteries for the Transmitter

The AX-4 transmitter features a throttle trim knob for low, medium, and high speed setting, a switch for steering servo reversing, steering dual rate, a switch for third channel applications (aux port on the ESC/Receiver), steering trim, battery level indicator, a bind button, and on/off switch.

The AE-6 ESC/Receiver features a jumper for setting one of two brake options (brakes, or instant reverse), two LED light ports, an auxiliary port (channel 3), a channel 2 port, and a steering servo port. 
FRONT AND REAR SOLID AXLES
The front and rear axles consist of a two piece, molded plastic solid axle design. For optimal handling, the SCX24™ suspension features a three-link front and four-link rear setup.
STEEL C-CHANNEL CHASSIS FRAME RAILS
Just like the 1/10th scale SCX10™ platform, the SCX24™ chassis features rugged and sturdy steel c-channel frame rails with bracing to keep everything intact and aligned.
DYNAMITE 88T BRUSHED MOTOR
The Dynamite 88T brushed electric motor provides the right amount of torque to help ascend steep climbs. It's mated to a steel motor mount to keep flex to a minimum, which helps protect the gears.
WORM GEARS
The front and rear differentials each house a worm screw and worm gear setup to get the power to the axles and create higher ground clearance.
DURABLE STEEL AXLES
Steel front and rear axles, front stub axles along with steel dogbones provide strength and durability to keep things running during tough climbs and rough trails.
SPLINED DRIVE SHAFTS
The front and rear drive shafts are splined and sleeved to allow for maximum suspension travel while keeping the power to the wheels.
COILOVER SHOCK ABSORBERS
Even at this small scale, the combination of coilover shocks with simulated reservoirs and durable plastic suspension links delivers the crawling performance you've known and expect from Axial. #AXIALPERFORMANCE
LED LIGHTS INCLUDED
Two bright LED lights are included and are mounted in the front bumper. An extra LED light port on the ESC allows you to add optional LED lights.
4-LINK REAR SUSPENSION
The suspension geometry utilizes a 4-Link design for the rear which is optimized to reduce axle steer and torque twist. We've also included extra suspension links for adjusting your wheelbase length.
KMC XD229 MACHETE CRAWL WHEELS
Officially licensed KMC XD Machete wheels are legendary in the off-road world. They are molded in black and feature stunning scale details, despite the small scale.
NITTO TRAIL GRAPPLER M/T TIRES
The officially licensed Nitto Trail Grappler M/T Tires offer a fantastic blend of off-road performance while still retaining excellent composure for on-road use.
HINGED BODY SYSTEM
The hinged body system offers easy access to on-board components. You can quickly reach the battery and chassis by removing just two body clips and swinging the body up.
FULL BALL BEARINGS
Just because the SCX24™ is smaller in size doesn't mean the features need to follow suit. No bushings found here, instead the drivetrain is freely spinning on sealed cartridge bearings throughout the entire vehicle.
AXIAL AS-1 SERVO
Mounted just above the front axle is the Axial AS-1 servo, with a servo saver that allows for steering accuracy, while also providing protection for the servo gears in the event of a bind or impact.
RECOMMENDED TERRAIN
REQUIRED ITEMS (not included)
Ready-to-run complete. Everything you need is included!
AXI90081T2
SCX24™ Deadbolt 1/24th Scale Electric 4WD - RTR, Green
605482298701
HIGH RESOLUTION IMAGES
©2019 Horizon Hobby, LLC. Axial, the Axial logo, SCX24, and the Horizon Hobby logo are trademarks or registered trademarks of Horizon Hobby, LLC. KMC Wheels, Baja Designs and Nitto are property of their respective owners and are used with permission or under license by Horizon Hobby, LLC.

NOTE: Prototype shown. Some imagery may differ from the actual product.