---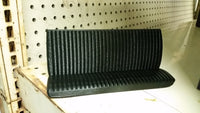 Sale
The bench seat adds a nice bit of scale to your rig. They are modeled to resemble old style seats for older trucks and SUV where a racing seat look just won't do.
Glue or mount to your interior as you like. Or purchase the floor mount kit sold seperately.
170MM wide
3.5oz per seat
NOTE: This item is 3D printed. Due to the nature of 3D FDM printing this item may contain tiny visual blemishes and may require some trimming and detail painting for optimal visual apeal/fit. Similar to what you would expect to do with model parts. These blemishes in no way affect the functionality of the part.