---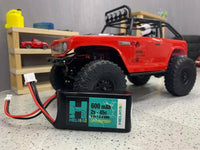 Looking for more run time on your Axial SCX24 or other 24th scale rig? Our Helios RC 2S 600 45C pack is the perfect answer for your small scale truck.
Specs:
Typical capacity (mAh): 600
Typical Voltage (V): 7.4
Dimensions(L*W*H mm): 60 * 30 * 12 
Approx Weight (±10%): 38g
Continuous Discharge Current: 45C
Recommended Charge Rate: 1C (2C after 10 complete battery cycles)
*Actual run time will vary based on rig setup.
**Packs come with JST-PH2.0 plugs already installed.
***Battery pack performance typically improves after initial use. We recommend going through 5 charge/discharge cycles before the battery is considered "broken in".
Please note, batteries can only be shipped inside the USA.