---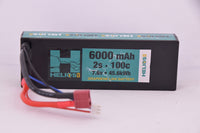 Are you looking for the ultimate high performance 2S pack for your go-fast rig or long run times on your scale off-roader? Look no further...the all new Helios RC 2S 6000 mAh 100C Graphene Lipo is perfect for 2S cars and trucks that like to GO! Fits the Traxxas Slash and Rustler, many touring cars, and many 1/10th scale off-roaders like the Axial SCX10.
Specs:
Typical capacity (mAh): 6000
Typical Voltage (V): 7.6
Dimensions (L x W x H mm): 138 x 47 x 25.1
Approx Weight (±15g): 305.0 (with wires)
Continuous Discharge Current: 100C (620A)
Burst Discharge Current: 200C (1240A)
Recommended Charge Rate: 2C
*Actual run time will vary based on rig setup.
***Battery pack performance typically improves after initial use. We recommend going through 5 charge/discharge cycles before the battery is considered "broken in".