---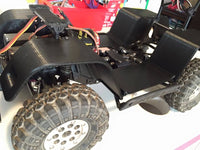 Sale
Vaterra Ascender innder fender set. This is all front 2 inner fenders for the Ascender. These are perfect fit for the Bronco body that comes with the kit. Optional floor boards are available for $5 - check the box Max 4.5 inch tire with out rubbing. Bigger sizes will rub, but the fender is rounded to help minimize binding issues. This is a 3d printed product and may require some lead time to ship. Custom designed and printed by Spare Time Hobbies
Color
- This product is black or gray in color(based on material availability). It is only shown in gray for easier viewing. You can lightly sand and paint 3D printed parts with oil or latex based paints to modiify or accent the appearance. ***
You will need to drill one 2.7mm hole in the top of each shock tower to secure the top of the fender. Use an 3/32th drill bit once the two bottom tabs are mounted. It will make lineing everything up easier.
*** hardware required Front: 2 - 3x6mm button, 2 - 3mm lock nut, 2 - 3x14mm button, 2 - 3x10mm button
Rear - 2 - 3x6mm button
6oz per set
NOTE: This item is 3D printed. Due to the nature of 3D FDM printing this item may contain tiny visual blemishes and may require some trimming and detail painting for optimal visual appeal/fit. Similar to what you would expect to do with model parts. These blemishes in no way affect the functionality of the part. 3D printed items are susceptible to heat and may warp if left in direct sunlight. This can easily be corrected with a hair dryer or light heat gun use. Care should be taken to not leave in hot cars or direct sunlight. A coat of paint will help with this.