---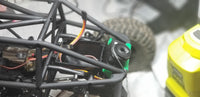 This mount will work with external or internal spool standard servo winches. Direct fit no truck modification necessary.  It was tested using a Precision RC Works Hand of God (HOG) winch.
It was designed to work with the internal or external spool Standard HOG.

https://rcaddictparts.com/products/the-h-o-g-hand-of-god-hog-standard-servo-winch-270oz-internal?_pos=17&_sid=44d4664bc&_ss=r&variant=8129361707109

 NOTE: This item is 3D printed. Due to the nature of 3D FDM printing this item may contain tiny visual blemishes and may require some trimming and detail painting for optimal visual appeal/fit. Similar to what you would expect to do with model parts. These blemishes in no way affect the functionality of the part.