---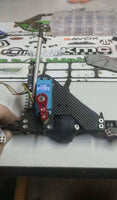 Sale
Scx10 3D printed behind the axle mount. Mounts the servo down low behind the axle to give better weight disbursement.

Only works on the Original SCX10 axles, will not work on SCX10ii axles.
D-Links are made in the U.S.A. lifetime guaranteed.
*Note* D-Links are made to order and could take up to 3 weeks to be completed.  Turn Around is usually faster, but please allow some time for quality.