---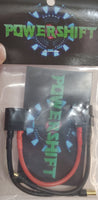 These are the battery connectors for the Power Shift Dead Man Switch (DMS).  Deans or XT60 battery Connector.
**DISCLAIMER**
These D.M.S. Units have been tested with 3S batteries only as of now. Further testing will be done soon for higher rated batteries. This means, if you use the D.M.S. Unit on a higher voltage battery and it melts, malfunctions, or stops working, that's on YOU!
Rated up to 3S only!!