---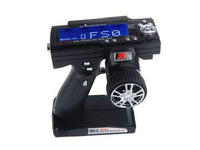 Mail in your working gt3b or gt3c radio and we will hack it and install the new firmware and mail it back to you.
Radio will be returned with hack port installed for upgrades and flashed to the 0.6.1 firm ware.
You will mail your radio to:
RC Addict
449 Bowman RD
Franklin, PA 16323
Information:
Radio Features:
 




3-8 Channels
Trim
Sub-trim (All channels)
EPA's (All channels)
Adjustable Backlight timer
Inactivity Alarm
14 Model Memory

 




Calibration Menu
ST and TH Dead Zone
Channel Speed (All Channels)
Dual ESC Mixing
4WS Mixing
Multi Position Switches
Key Mapping
List of features, updated
i belive this is all the new features the firmware offers in addition to the ones already there.
- ~15 model memory depending how many channels your firmware is
- Sub trims
- More trim value (from 30 to 99)
- copy models
- fixed expo
- Model reset
- Steering speed
- 4WS Mixing
- Dual ESC Mixing
- Dual ESC steering
- Multi Positions Switches (Up to 8 True positions out of a single push button)
- Key Mapping (any key can control any channel in many different ways)
- Calibration Menu
- Key Test Menu
- Backlight on time
- Inactivity Alarm
- Adjustable Low volatge warning
- Adjustable Maximum End Points (Up to 200% i think
- Adjustable dead zone for steering and throttle
- Turn keep beeps on/off
- Adjustable long press delay
The Trim and d/r keys can do this
- nothing, it is possible to assign each button individually as key
- trim of channel 1/2
- dualrate of steering/forward/back
- expo of steering/forward/back
- change channel "n" value in range -100...100
- subtrim of channel "n"
- 4 wheel steering mix -100...100%
- DIG throttle mix -100...100%
- Multi-POsition, switches position up/down
- steering speed turn 1...100%
- steering speed return 1...100%
They Can be setup to act like this
- momentary, hold left/right trim key to get end values,
when nothing pressed, servo is at centre
- no long keys, long press is the same as short press
- autorepeat is on
- long press of one of trim keys will reset to
centre/reset value
- long press of trim key will set to coresponding end value
And they can have an adjustable step rate, oppisite click reset, reversed, etc.
And the Keys (ch 3 button, back button, end button, and the trims if set individually)
- nothing
- switch channel "n" value from one end value to opposite end
value.
- reset value of channel "n" to centre
- switch crab (CRB) no-crab (NOC) for 4 wheel steering
- switch DIG mix between -100 and 100 (more useable when using
return to previous val key setting)
- Multi-POsition, switches position up (at END back to 1.)
- Multi-Position Reset, switches position to first one

***** Due to the nature of this modification. There is no warranty beyond normal DOA warranty. ******