---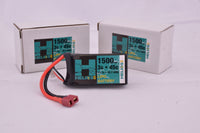 This little guy packs quite a punch! Whether you're building a scaler/crawler, flying a glider, or even an entry level drone, this pack delivers strong performance and run times.
Specs:
Typical capacity (mAh): 1,500
Typical Voltage (V): 11.1
Dimensions(L*W*H mm) : 68mm x 35mm x 22.5mm
Approx Weight (±2g): 124g
Continuous Discharge Current: 45C(67.5A)
Burst Discharge Current: 90C(135A)
Recommended Charge Rate: 2C
***Battery pack performance typically improves after initial use. We recommend going through 5 charge/discharge cycles before the battery is considered "broken in".
Please note, batteries can only be shipped inside the USA.
Ground shipping only