---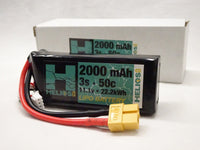 You're going to love our latest compact 3S lipo battery pack. The Helios RC 3S 2000 50C pack is perfect for scale builds, comp crawlers, vintage buggies, and just about any other brushed or brushless application where space is at a premium but you don't want to sacrifice power, performance or run times.  Available with XT60, Deans-style and EC3 connectors.
Specs:
Typical capacity (mAh): 2000
Typical Voltage (V): 11.1
Dimensions(L*W*H mm): 86 * 34 * 27 
Approx Weight (±10%): 152g
Continuous Discharge Current: 50C
Recommended Charge Rate: 1C (up to 2C after 10 complete battery cycles)
*Actual run time will vary based on setup.
**Battery pack performance typically improves after initial use. We recommend going through 5 charge/discharge cycles before the battery is considered "broken in".
Please note, batteries can only be shipped inside the USA. Ground Ship Only.