---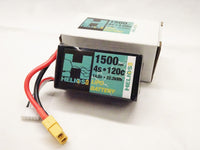 Our original 4S-1500 packs proved themselves over and over in the hardest racing and freestyle environments. Our updated version takes them to the next level with 120C rating in an even lighter, more compact size.
Specs:
Typical capacity (mAh): 1,500
Typical Voltage (V): 14.8
Dimensions(L*W*H mm) : 68mm x 35mm x 36mm
Approx Weight (±2g): 143g
Continuous Discharge Current: C(A) 120C / 180A
Recommended Charge Rate: 2C
Available with XT60 connectors only
***Battery pack performance typically improves after initial use. We recommend going through 5 charge/discharge cycles before the battery is considered "broken in".
Please note, batteries can only be shipped inside the USA via ground.