---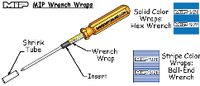 Sale
PRODUCT DESCRIPTION:
MIP Hex wrenches have been leading the RC tool industry for 30 plus years, and as we move towards the future - design, features, and overall look may change, but quality never will. MIP's wrenches encapsulate an RC'ers meaning of the word - 'Perfect'. What makes it 'Perfect' you may ask? Well…
MIP Hex Tips
a.Precision cut to fit perfectly in new screws.
b.Hi quality tool steel tips wear much less and keeps the tip fresher longer
c.Hi quality tip means that screws will not wear and strip out easily
d.Many times MIP wrenches have been known to remove screws stripped by other brand wrenches
MIP Wrench Handle
a.Hard Plastic Handle feels natural as well as doesn't tear up your hands during long wrench sessions.
b.Handle is easy to grip and you feel confident when breaking loose tight screws.
c.Every turn of the wrench you feel connected to the screw.
d.Amber handle is easy to spot in any tool box
MIP New Color Coated Wrap
a.Every MIP wrench / speed tip now comes with a color coating wrap to differentiate it from other MIP wrenches
b.The shrink tube helps protect the colored wrap from damage and wear.
Every MIP Wrench is made right here in Covina, CA and is created out of the highest grade US metals and plastics to produce what some call "The Wrench that Lasts a Lifetime." There is a reason why you see MIP wrenches passed down from father to son. Get the Wrenches that will last you a lifetime; GO MIP; GO USA!
FEATURES:
Precision CNC ground IN-HOUSE from hardened US Tool Steel drill blanks!
NOW Has Color Coating Wraps with tool size!
100% Quality Genuine MIP Made in the USA!
SAFETY REQUIREMENTS:
Remember to work safe! Always wear appropriate eye and hand protection when using hand tools. Never use your MIP tool to pry, hammer, over torque, or you will void the warranty. The same hardened quality that keeps the tips sharp and precise can be brittle and subject to breaking if misused as a prying tool. Use properly to remove, or tighten hardware only.
WARRANTY:
MIP stands behind every wrench and hex driver! MIP quality assurance promises that all wrenches and hex drivers are free from defects in workmanship or manufacturing upon opening of the packaging. Defective parts that have been rendered defective straight from the packaging will be replaced at no charge*. An MIP Hex Wrench or Speed Tip™ that has been used improperly or is more than one-year-old* is eligible for replacement at MIP's discretion for a fee of $10.00 each including USPS shipping and handling within Continental USA; International/Hawaii/Alaska just $15.00. Before sending the wrench into MIP for repair/replacement, contact support(at)miponline.com and speak to customer service to see if your wrench is eligible for warranty. Upon shipment of product, be aware that MIP is not responsible for products that do not make it to us. Any additional indemnification will be strictly denied. Due to the nature of normal use of tools, wrenches broken by the customer under unordinary conditions, altered, used for prying, impact, or otherwise misused will not be replaced. In such cases, the customer will be charged for the cost of returning the received item.
*All warranty requests are subject to inspection and are at the discretion of MIP.
*Must have documentation of Valid Proof of Purchase