---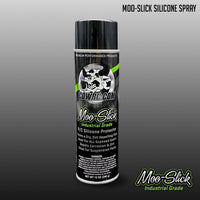 MOO-Slick, Dry Silicone Lubricant & Protectant:
Look good, Stay clean, & lubricated without collecting dirt & grime with the protection of CowRC Moo-Slick Dry Silicone Lubricant & Protectant. Specifically created to keep your moving parts and pieces moooooving smooooth like no other. Lubricates without collecting dirt and grime or inducing drag like a grease or oil, frees up essential moving parts putting an end to sticking & friction, stops rust in its tracks, and blocks buildup of dirt and contaminants on your RC parts drastically reducing cleaning time, prep, & mess.
We really hit it out of the park with this one!
Fast drying silicone lubricant, protector, and release agent
R/C safe formula outperforms and outlasts the competition
Ultimate bearing, drivetrain, and suspension lubricant in one
Unaffected by water or oils protects from rust and corrosion
After run application protects pins, shafts, and bearings
Heat stable to 400 degrees and will not freeze or melt
Reduces regular maintenance and increases durability
Available within the Continental United States & Canada only
Keep out of electronics (Apply with rag to casings only)Not electronics safe
Superior RC protection and a great look all in one aerosol can! Only CowRC can!! 
If you are looking for a terrific Non-corrosive cleaner to remove the unwanted dirt and grime without stripping lubricants, CowRC has your back. Before you reach for the Moo-Slick, be sure your RC is clean of all dirt and debris with the CowRC Moo-Kleen Part and Chassis Wash.
Please Note: By law MOO-slick ships UPS Ground or USPS Parcel Select within the Continental United States & Canada ONLY!