---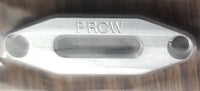 Sale
This winch line fairlead provides a precision guide for the winch line, and is the perfect addition to your Bulldog 9300XT winch, HOG winch, STH Capra winch mount, Scaler Fab bumper or any other truck with standard scale spacing for winch fairleads.
This will help protect your winch line and your bumper from undo stress and adds -1 functional scale point if you do SORRCA comps.
31mm from center or bolt hole to center of bolt hole.