---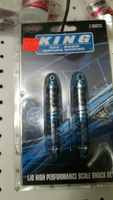 Sale
RC4WD King Off-Road Scale Dual Spring Shocks (90mm)
These are the all new Licensed Scale Shocks to hit the market and are officially Licensed from King Off-Road Shocks. These new shocks feature a completely new design from the ground up and are built and ready to handle the rocks. Your scale build will never be the same once you bolt up a set of these awesome looking shocks!
Specifications:
Machined Billet Aluminum
King on Top and Retainer Ring
Dual Spring Design
Hole to Hole (Compressed): 2.59in / 66mm
Hole to Hole (Uncompressed): 3.54in / 90mm
Overall Length: 3.89in / 99mm
Travel Length: 0.94in / 24mm
Shock Body OD: 0.39in / 10mm
Spring Body OD: 0.57in / 14.5mm
Shaft Diameter: 0.17in / 3.5mm
Weight: 0.9oz / 26g
Shown installed on Traxxas TRX4 with 2mm Black Spacer with M3 Hole (10) (Z-S0600) and 3mm Black Spacer with M3 Hole (10) (Z-S0806) for example (Not Included)
Installed on our customer's truck:
What's Included:
2x RC4WD King Off-Road Scale Dual Spring Shocks (90mm)
Optional Parts:
90mm King Scale Shock Spring Assortment (Z-S1119)
Shock Cap for Top of King Offroad Shocks (Z-S0866)
Notes:
Fits Gmade Sawback
Fits Traxxas TRX-4, but will require both 2mm (Z-S0600) and 3mm (Z-S0806) Black Spacers with M3 Holes
This product will fit the front of the Traxxas Telluride 4x4, but you will need 4x M3 x 14mm BHCS (Z-S0655)
Fits Traxxas Rustler Front Axle, but you will need Steel Button Head Cap Screws M3 x 12mm (10) (Z-S0654)
To use this shock with the SCX10 II, you will need to use a 3mm spacer on the top mounting point of the shock. (Z-S0806)
Use blue (medium) thread lock to the bottom shock shaft rod end before installing onto your vehicle to help keep it in place.
King Off-Road
is a registered trademark of the King Off-Road Shock company. The King Off-Road logo is property of King Off-Road Shocks and used under license by RC4WD.
This product has been tested and approved by the Recon G6. It is Recon G6 Certified.