---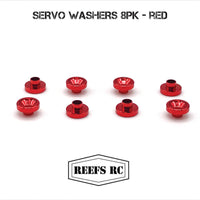 SEHREEFS53

Servo Washers 8pk- Red
WARRANTY:
Returns / Exchanges - Purchases made directly
from REEF'S RC may be returned/exchanged
within 30 days of purchase, product must be
unopened from its original packaging. If factory
seal is broken, no return or exchange. One year
MFG warranty on purchases through an
Authorized Dealer. Bearings not covered under
warranty, nor is subsequent damage caused to the
motor by bearing failure. Bearings are considered
a normal wear and tear item, and should be
maintained / changed periodically. Warranty does
not apply to improperly installed, handled, abused,
or impact related damage. Any unit which has
been repaired or modified will not be covered
under the warranty.