---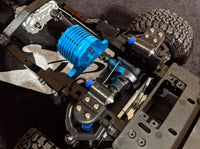 Sale
 These allow you to properly mount your reservoirs for your shocks. 
Be sure to check out all our great add-ons for the Hero : https://store.rcaddict.us/search?type=product&q=hero
NOTE: This item is 3D printed. Due to the nature of 3D FDM printing this item may contain tiny visual blemishes and may require some trimming and detail painting for optimal visual appeal/fit. Similar to what you would expect to do with model parts. These blemishes in no way affect the functionality of the part.