---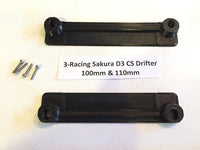 Sale
Incognito mounts remove those unsightly body clips from your build. Giving a cleaner more scale look. They use heavy duty pro grade velcro to mount the body to the body posts and hold quite well. You normally have to lift the truck a few inches by the body and then shake to get the velcro to release.
This is the Incognito Body Mount for use on your stock body posts. Includes the front and rear mounts.
Each mount comes with 2x 2x12mm cap screws with hex 1.5mm drive.
This mounts will rotate up to 30 degrees to accomidate the sloped surface of most on-road bodys.
You will need to provide your own velcro to mount.
NOTE: This item is 3D printed. Due to the nature of 3D FDM printing this item may contain tiny visual blemishes and may require some trimming and detail painting for optimal visual apeal/fit. Similar to what you would expect to do with model parts. These blemishes in no way affect the functionality of the part.