---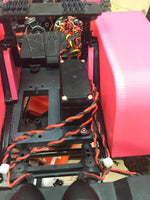 Sale
This mount is intended to give you a chassis mounted servo. There is also another slot for a servo winch or you can use the empty space to mount electronics or a small battery. The stock electronics box will fasten to the one end just as it did with the stock chassis brace. You can reuse all stock hardware for this mod. Depending on your bumper position, you may need to trim the back of the bumper mounting rod slightly.
One easy way to setup a panhard on this is to use shock tower mounts for SCX10ii, we recommend part - https://rcaddictparts.com/products/aluminum-front-shock-hoops-for-scx10-ii-1-pair-gun-metal?_pos=1&_sid=788471acd&_ss=r&variant=8129449590885
NOTE: This item is 3D printed. Due to the nature of 3D FDM printing this item may contain tiny visual blemishes and may require some trimming and detail painting for optimal visual appeal/fit. Similar to what you would expect to do with model parts.