---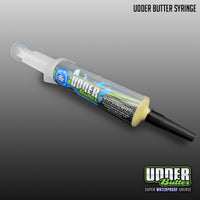 Udder Butter 2.5oz. Easy Apply Syringe:
We did it again... Behold, the Udder Butter! The RC lab was working overtime when we manufactured this Udderly Amazing grease specifically designed to be used on almost all mooooving parts on your RC.
The ultimate high performance lubricant that provides superior water resistance, even in salt water and will ensure continued sealing and protection. Udder Butter is perfect for gears, axles, wheel bearings, shock linkages, swing arm pivots, transmissions, differentials, and more! Enhanced mechanical stability and special anti-wear additives protect and lubricate. A complex formula that will not melt or run out providing maximum protection against wear, rust, corrosion, and friction. Available in two application containers for your convenience. The plastic 8oz. tub (A HALF POUND OF GLORIOUS GREASE) is perfect for large applications or shared use with your RC buddies during a serious wrench session. For those individual jobs where a more precise grease application is called for, our 2.5 oz. grease pre-filled syringe is convenience at it's finest!